The city - sliced, diced and served with a dash of sauce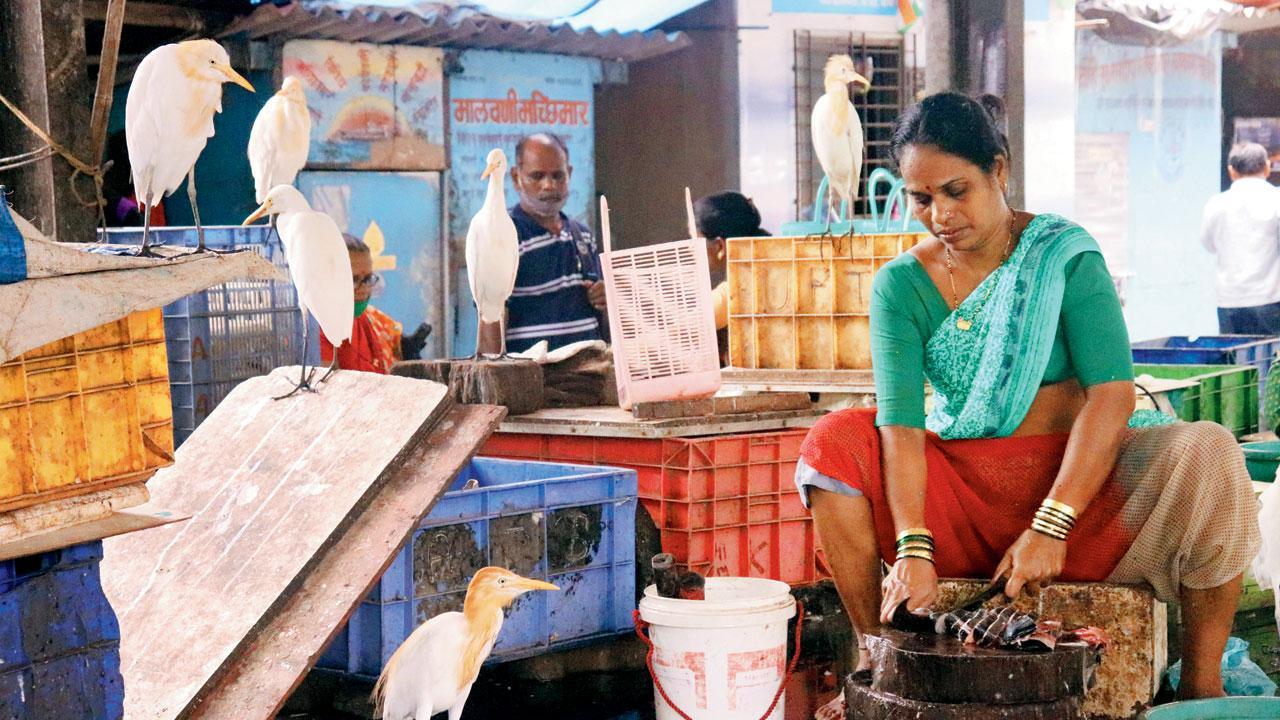 Pic/Anurag Ahire
Fishing for a bite
A flock of egrets stare expectantly at a fish seller slicing her catch at the Malad fish market on Wednesday.
Wheel you pay?
ADVERTISEMENT
At a time when most of society is struggling to meet economic needs, a one-of-a-kind event offers cyclists an opportunity to help out while pursuing their fitness goals. This Friday, a virtual cycling event called Cycle for Good is being organised by the sports management company YouTooCanRun. Affiliated with over 30 non-profits, the event will see participation from renowned cyclists. CEO P Venkatraman said, "Many less-fortunate people rely on non-profits to thrive and in turn, non-profits rely on donations or CSR. It's a cycle that was severed during this pandemic." Head to youtoocanrun.com/races/?ee=2117 to register. 
Role reversal
Theatre shows usually entail the actors performing on stage and the audience soaking in the show from their seats. But there are also some plays that turn this equation on its head, making the audience direct participants in the dramatic process. An Oak Tree, a play directed by Atul Kumar of The Company Theatre that was staged at Prithvi yesterday, and which will run till March 14, is one such example. It stars two people — actor Danish Husain (in pic) and one pre-decided member from the audience. Kumar explained, "The audience member might or might not be an actor, and they are required to not read or see the play beforehand. They should be able to think on their feet, though I hold their hand through the show. The central theme deals with grief and loss, and how we find different ways to come out of it. A lot of us went through the same last year, and that's why I felt that it was an apt play."
The sound of silence in SoBo
It seems like we are back to square one as far as live gigs being disallowed in Mumbai is concerned, at least for the time being. Cuffe Parade eatery Hammer and Song had planned to launch a series of jazz gigs every Thursday, starting today. The inaugural edition was supposed to have saxophonist Ryan Sadri (in pic) perform with his quartet, Soul City. But then owner Ayush Arora received a government circular last morning, which said that live entertainment is being barred at venues in light of the rising COVID-19 cases in the city. "Even [Lower Parel venue] AntiSocial has cancelled the gigs there. I spoke to Riyaaz [Amlani, who runs AntiSocial] about it. We are going to play it by ear, going ahead," Arora told this diarist. He added that the plan for this jazz series was born out of a dearth of venues that offer the genre in South Mumbai, an area where there is a high demand for it.
Cook it up like mum
It of course doesn't have to be that mothers do all the cooking in the kitchen. But it so happens that many of us fondly recall the dishes that our mums would make for us in our childhood, and which they continue to specialise in. A new competition organised by culinary group Food Konnect Inc seeks to honour these recipes. Called Mum's Special Recipe Contest, the event entails people sending in a 250-word write-up about a dish that reminds them most about their mothers. The entries will be judged on the power of storytelling. "You don't need to send an actual recipe," organiser David Vaz told this diarist. Interested? Mail your entries to foodkonnectinc@gmail.com.
Objective learning