I'm guessing, if not almost sure, this Hindi remake of the Tamil Vikram Vedha (2017), must've been greenlit by Roshan, in particular (since he does such few films), before the pandemic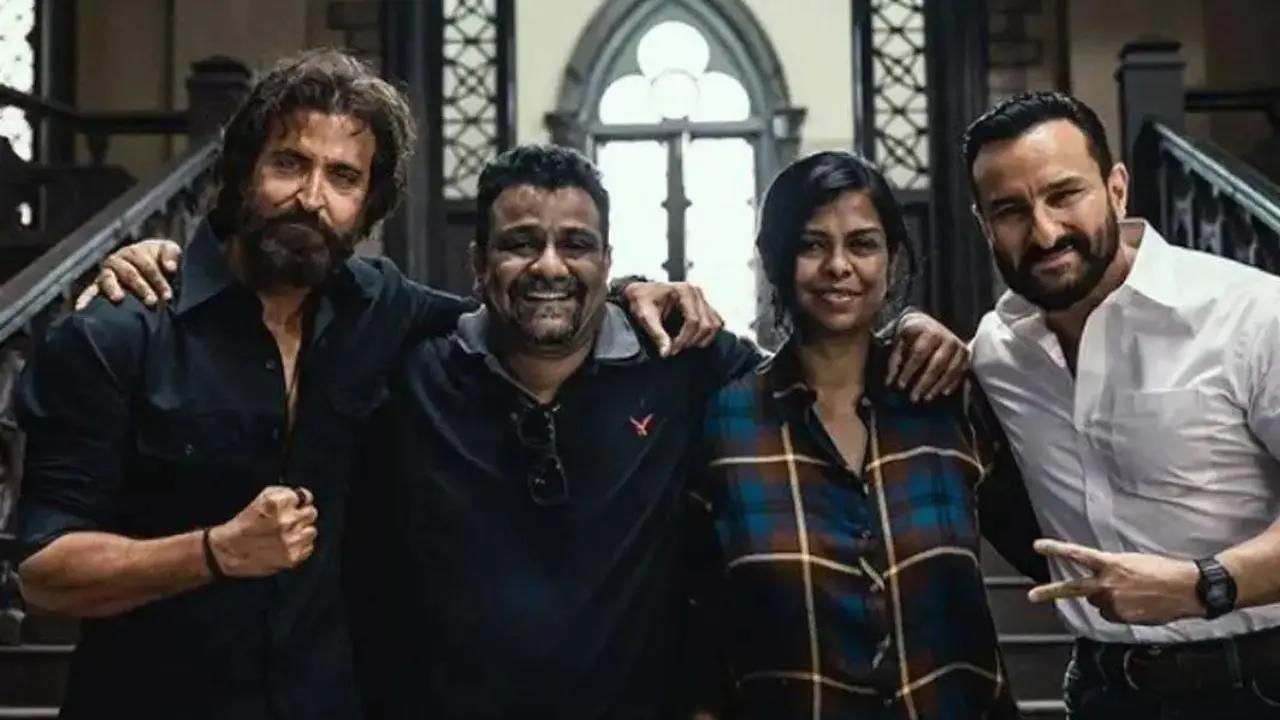 Team Vikram Vedha
Vikram Vedha
Dir: Gayatri, Pushkar
Cast: Hrithik Roshan, Saif Ali Khan
Rating: 2/5
The difference between pure villain and the anti-hero, I guess, is that the latter comes with a backstory/motive attached, making it hard to hate them unconditionally.
Also, the reason heroes have forever played anti-heroes on screen, revelling in darkest shades of grey—and this is way before Shah Rukh Khan in Baazigar (1993). Just look at Dev Anand's noir-thrillers, with the slightly twisted but stylish hero justifying means towards a certain end.
Vikram Vedha is, in that sense, about anti-heroes—for both the lead characters that the film is named after. Before that though, this is what lay audiences call a performance driven/oriented picture. As in the sort of muscular movie people queue up for, to gawk at their favourite stars, topping the charts, with their look, armour, gaze, and the general swag of it all.
On that point, it hardly ever gets better than two of the best Bollywood star-actors on screen—Hrithik Roshan, Saif Ali Khan. Both have primed themselves up for the cinemas. Roshan, in a scruffy, longish beard, droopy eyes, menacing gait, unmatchable screen presence, walking the talk, in a Purvi/UP accent.
Also Read: Shruti Haasan: Have been a Neil Gaiman fan since teenage days
Given the level to which Roshan prepares for parts, it might be interesting to figure how his acquired twang is nuanced differently from the Bihari one for Super 30 (2019). He plays a mass murderer of sorts, which is different from serial-killers who, I suppose, are meant to be demented.
Khan, likewise, bodily pumped up for the role, shows up as a trigger-happy cop, in tight white shirts, revolver tucked in, and the G-shock Casio watch on his wrist. Speaking of accents, Khan's "ama yaar" sounded somewhat Bhopali to me!
Either way, a dhamaal for a mass entertainer is hence set in motion. Frankly, this kind of characterisation, followed by sorted action sequences, should be enough for junta to label this picture, 'paisa vasool', and move in, or move on. No quibbles there, whatsoever.
Generous enough to appear in two-starrer movies, where he's inevitably the second star, Khan himself has delivered a few theatrical hits, with movies that the more discerning viewers might give a two-star rating to—Tanhaji (2020), being the most recent example.
And that came out right before the 2020 pandemic, which as we speak, has perhaps changed the way we receive theatrical entertainment, even if it's only a phase.
This is to place in context how mainstream films, simultaneously released from the South (Telugu, Tamil, Kannada), with their original cast, only dubbed in Hindi, has been equally lapped by North Indian crowds. That's such a unifying trend. Also, practically everyone has access to movies from everywhere, thanks to the Internet, accessed further during lockdown.
I'm guessing, if not almost sure, this Hindi remake of the Tamil Vikram Vedha (2017), must've been greenlit by Roshan, in particular (since he does such few films), before the pandemic.
Only that this isn't so much a remake—which is supposed to be a reinterpretation/adaptation—as it is altogether a reproduction, with the same directors (Gayatri, Pushkar), and the cast replaced, and some high-grade, memorable money-shots in place.
What are we looking at here? The mass-murderer Vedha, who voluntarily surrenders himself to the encounter-cop, Vikram. The cop's lawyer wife (Radhika Apte, strange casting), in turn, swiftly secures the gangster's bail, which might be impossible in current circumstances. The debate is over crimes and intent. And that the gangster has stories to patiently explain his reasons for taking up the gun.
We've been through this interplay, between the super-hero and the super-villain, in detachedly grand, mythologised settings, such as the Joker and Batman. This is realistically set in present-day Uttar Pradesh, between Lucknow and Kanpur, both of which don't look like lived-in experiences in the film. Still, you can't situate a script in a current location, and divorce it from its inherent politics.
Bearing that in mind, and all that we consume in the news—for God's sake, the policemen conducting fake encounter-killings is plain illegal/wrong, period. Where's the shade of grey here? Let alone contrasted with the gangster, whose killings can only be justified, if the state has been wholly corrupted, and lost its monopoly over violence.
That said, when you step in for this stylish actioner, do make sure you're fresh, as a daisy/lily/tomato. As against exhausted after a long day at work (as I was). For, what follows are simply the two leads with guns in their hand, but they must talk, and talk, instead of simply shoot, and scoot.
The loud, constant background score ('Na-na-na-na-na-na'), drills a minor hole in your head. When Vedha is four stories down, finally; in the end, he asks Vikram once again, "Now should I tell you a romantic story?" On cue I hear myself go, "No! Oh, no!"
Also Read: INSIDE PICS: Richa Chadha and Ali Fazal's cocktail party and reception
Are you excited for Rashmika Mandanna`s Hindi film debut Goodbye?