Former Sri Lanka captain not surprised by his country's recent Asia Cup triumph in the UAE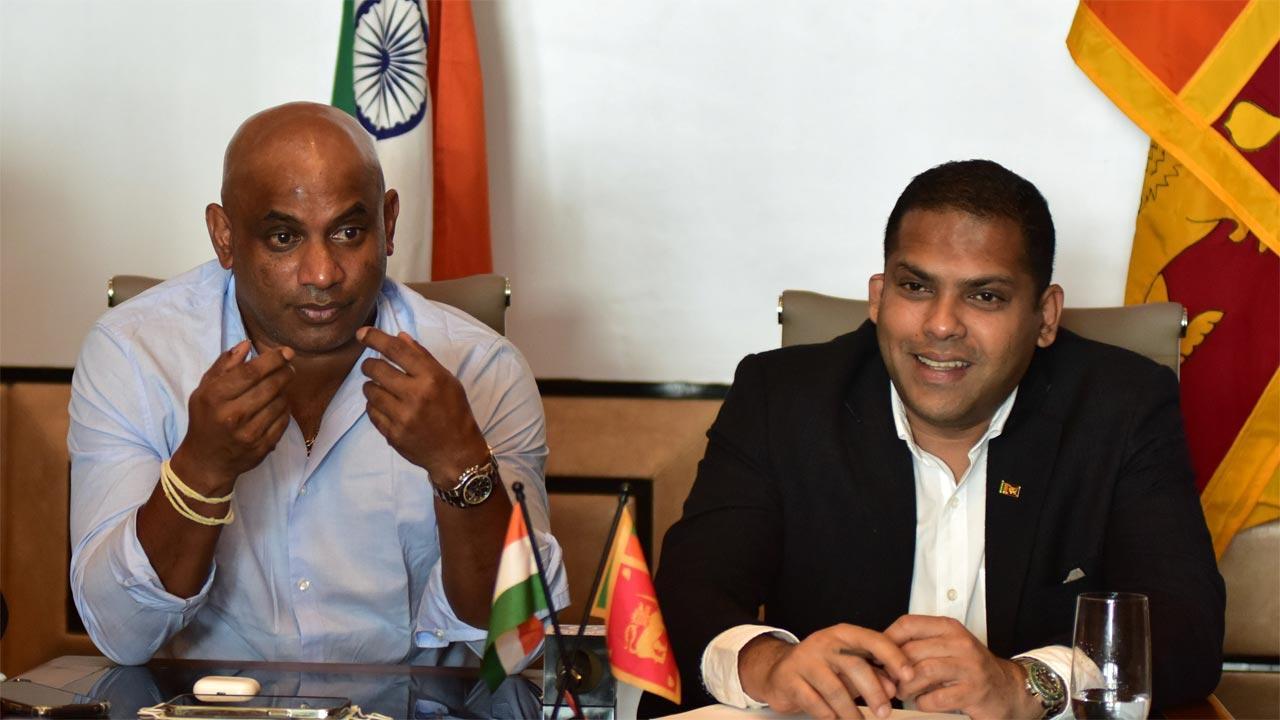 Sanath Jayasuriya (left), the Brand Ambassador of Sri Lanka Tourism, with Harin Fernando, Sri Lanka's Minister of Tourism
Former Sri Lanka captain Sanath Jayasuriya reckons teams don't need outstanding players to win a T20 game, but good players can also help win the game if they perform as a team. 
Jayasuriya, 53, who played a crucial role (221 runs and seven wickets] in SL winning the 1996 ODI World Cup, feels the Lankans will do well in the upcoming T20 World Cup, scheduled to be held in Australia from October 16 to November 13.
"I wasn't really surprised, because we have a good bunch of cricketers who peaked at the right time. They lost their first game [to Afghanistan]. Anybody can lose a game and come back. They realised what went wrong, worked hard on their individual games and performed as a team. You don't need to have outstanding players [to win], but good players, who perform as a team," Jayasuriya said when www.mid-day.com asked him if he was surprised by the SL team's triumph in the T20 Asia Cup held in UAE earlier this month.  
Also Read: Sanath Jayasuriya on Twitter: We need immediate measures to save Sri Lanka cricket
The Dasun Shanaka-led SL outfit beat Pakistan in the final by 23 runs to win the Cup. "T20 cricket is a team game, it's a fast game. The [SL] boys are playing good cricket and whoever does well on that particular day is going to win the game," he remarked.
The former SL all-rounder was speaking on the sidelines of a Sri Lanka Tourism event at a five-star hotel in Mumbai on Wednesday. 
Sri Lanka Tourism are venturing into a series of Road Shows in major Indian cities to be held this month.
Jayasuriya also revealed that SL will organise their T20 Premier League in December.  
When asked to predict the finalists in the upcoming T20 World Cup, Jayasuriya, who played 586 international games across all formats, scored 21,032 runs and picked up 440 wickets, said: "I can't tell now. It's too early. But Sri Lanka will definitely do well."  
Jayasuriya refused to get into the current squad's similarities to the 1996 World Cup-winning one. "As long as they play their own game, do their basics right, they will enjoy their cricket."