Rahane, 34, who has played 192 international games across all formats, has 8,268 runs under his belt. His last Test appearance was against South Africa, where he scored nine and one in Cape Town earlier this year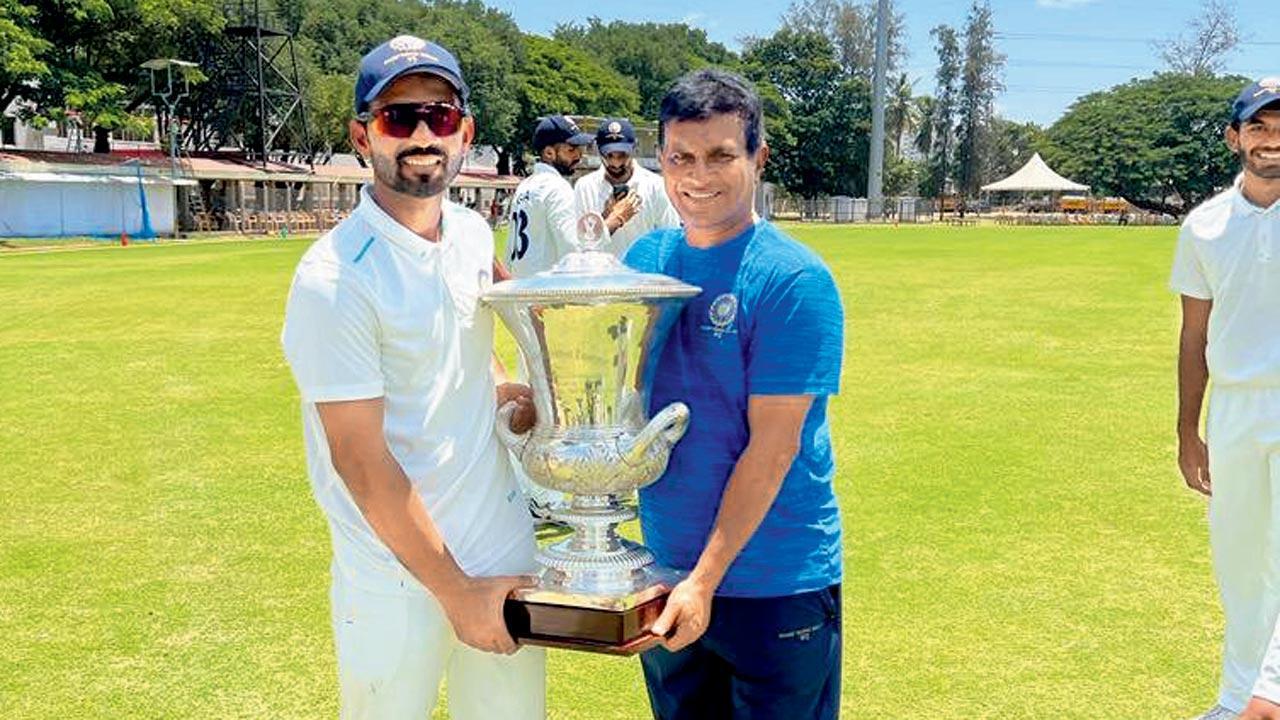 Ajinkya Rahane and coach Tushar Arothe with the Duleep Trophy
Although Ajinkya Rahane led West Zone to the Duleep Trophy triumph after 12 years in Coimbatore on Sunday, he hasn't done much in terms of individual runs. 
However, Tushar Arothe, 56, who coached West Zone in the Duleep Trophy, reckons it's just a matter of time that the Mumbai batsman makes a comeback to the national team. "I am sure he will bounce back. He ticked all boxes—work ethic, dedication, hard work, commitment—and thought process. In fact, there is not one per cent drop in his commitment level. It is just a matter of time…he will definitely return to the Indian team," Arothe told mid-day from Baroda on Monday. 
Rahane, 34, who has played 192 international games across all formats, has 8,268 runs under his belt. His last Test appearance was against South Africa, where he scored nine and one in Cape Town earlier this year. 
In the opening game of this season's Duleep Trophy, he scored an unbeaten 207 against an inexperienced North-East Zone in Chennai. Later, he managed just eight and 12 against Central Zone in the semi-final before falling for eight and 15 in the final against South Zone. 
Also Read: Had warned Charlie Dean for leaving the crease early: Deepti Sharma
Arothe dissected Rahane's recent innings: "On the odd occasion, he plays balls on the back foot [in the second innings v South in the final, for example] which were to be played off the front foot. But it happens when you are struggling a little bit."
The former Baroda player said Rahane discussed the issue with him during the Duleep Trophy matches. "Ajinkya will overcome this phase just by playing more matches. I just told him to keep playing matches. There is no technical error in his batting. He will get his form and momentum back in the upcoming Ranji Trophy season. His double hundred against North East was a flawless knock. Though that bowling attack was not experienced, it was still a first-class double hundred," remarked Arothe, who scored 6,105 runs in 114 first-class games.  
Arothe praise Rahane's leadership skills and decision-making. "Ajinkya's captaincy was awesome. It played a crucial role in our Duleep Trophy triumph. His instructions to bowl on the middle and leg stump in the semi-final [against Central] was a classic example of how to read a game and execute your plan. All his plans and decisions worked in our favour.  
"Though he failed to make big scores in the last couple of games, it did not affect his captaincy. Even after scoring the unbeaten 207 against North East he straightaway went out to field. It showed his commitment level," he added. 
Also Read: Rohit Sharma: It was an exceptional innings
Are you excited to see Aishwarya Rai Bachchan in the Mani Ratnam's historic film 'Ponniyin Selvan 1'?