Men in Blue are nowhere close to their first-choice XI ahead of final series—three T20Is v South Africa—before the World Cup, thanks to Deepak Hooda's injury, COVID-affected Mohammed Shami and conditioning sessions for Bhuvneshwar Kumar and Hardik Pandya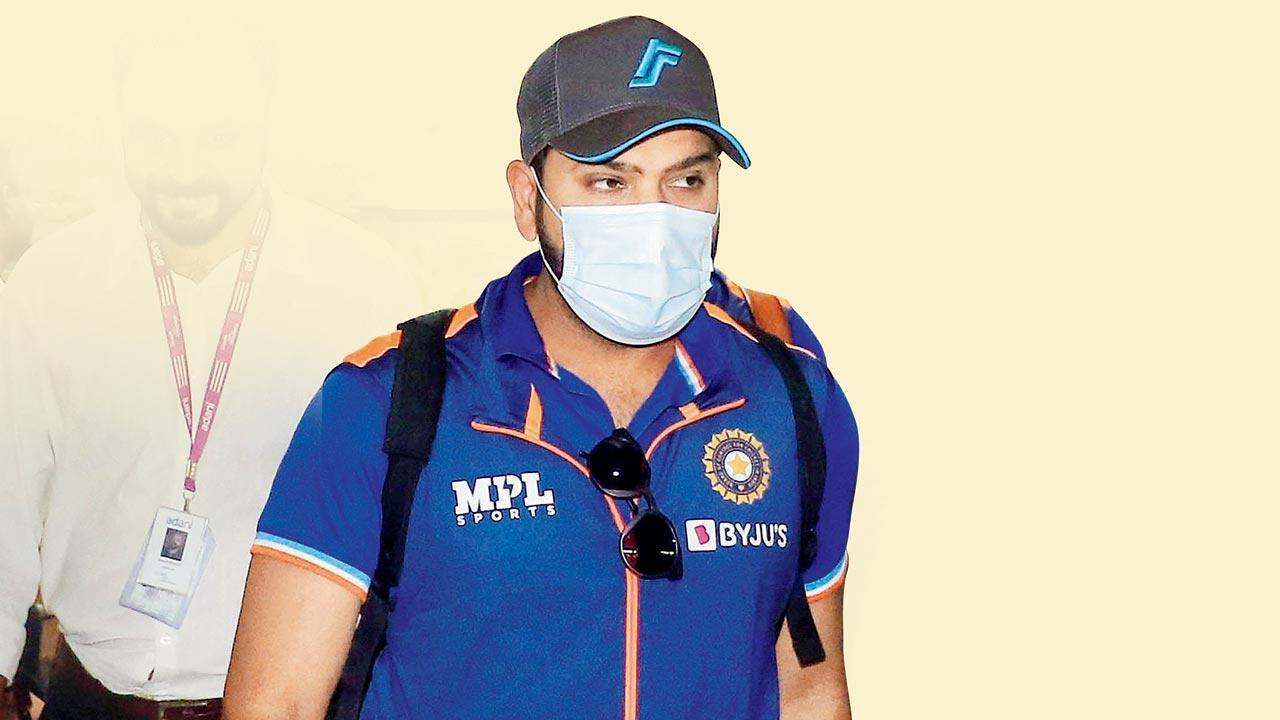 India captain Rohit Sharma arrives in Thiruvananthapuram ahead of the first T20I against South Africa on Monday. Pic/PTI
Hardly has one series ended than another is upon the Indian team. Less than 72 hours after their 2-1 conquest of Australia in Hyderabad, Rohit Sharma's men will square off against their recent bete noire, South Africa, in the first of three Twenty20 Internationals, at the Greenfield International Stadium here on Wednesday.
Also Read: Shami, Hooda doubtful for SA series, Iyer likely to get place in the team: Report
SA back after four months
Interestingly, intriguingly or bizarrely, depending on one's perspective, this is the second time in less than four months that the South Africans are touring India for a white-ball faceoff. The sides locked horns in a five-match T20I series in June which ended in a 2-2 stalemate—the decider in Bangalore was washed out with just 21 deliveries bowled—a result which helped South Africa retain their unbeaten record on Indian soil.
India's last three international fixtures before the World Cup in Australia ought to have been the final competitive dress rehearsal before the showpiece T20 extravaganza, but injuries, illness and a pre-arranged conditioning schedule means the home side will be without several first-choice personnel.
Deepak Hooda is out with a back injury while fellow all-rounder Hardik Pandya and Bhuvneshwar Kumar are at the National Cricket Academy for conditioning work. These three, bound for the World Cup, are joined on the sidelines by Mohammed Shami, one of the standbys for the tournament Down Under. The experienced pacer is yet to recover fully from COVID-19, which means despite the return to play of Arshdeep Singh, India are nowhere close to playing their first-choice XI.
In some ways though, that may not be the worst thing because despite the waning of the pandemic, there is no gainsaying what curveballs might be in store going forward. For those that are available and playing, it's a great chance to get more game-time. Primary among them will be pace spearhead Jasprit Bumrah and the canny Harshal Patel, both coming off injuries and needing miles in the legs in a competitive scenario.
Also Read: Sanjay Manjrekar lauds the recent performances of Hardik Pandya and Suryakumar Yadav
Bavuma returns
South Africa are ranked No.3 in the ICC T20I ratings and will welcome back Temba Bavuma for the first time in three and a half months. The skipper injured his elbow on the last tour of India and has been out of action since, and his return will bring normalcy and greater clarity as the Proteas continue their preparations in their hitherto elusive bid for a global title.
The sprawling Greenfield Stadium hasn't exactly been India's favourite hunting ground—they have lost two of the three internationals played here—but that's something Rohit and Rahul Dravid are unlikely to lose any sleep over.
What do you make of the new Team India jersey for the ICC T20 World Cup 2022?