What better way to gauge Kolkata's showbiz than to be a moth at the bar in the city's biggest filmy party!
At its fifth anniversary party, the Bengali streaming app Hoichoi revealed as many as 25 new series for the year. Pic/Twitter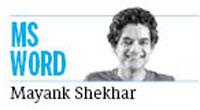 Unsure exactly how the word Bollywood for Bombay-based Hindi cinema came about. There was film historian Bunny Reuben's book, Follywood Flashback, in the early '90s. Also, top showbiz executive and lyricist Amit Khanna, apparently, first coined the term 'Bollywood' in a column to describe Bombay's film industry. 
Ever since the word 'Bollywood', I guess, all movie industries have had the suffix 'wood' attached to it. In the same way that all scams/scandals have been called some 'gate' or the other since Watergate (1972)! 
ADVERTISEMENT
Hence, Tamil cinema is Kollywood—out of Kodambakkam in Chennai. Likewise, Lollywood for Lahore's film industry, or Nollywood for Nigeria. Even Sandalwood for Kannada cinema!
The only nickname that makes sense is Tolly-wood for the Bengali film industry. Because it operates out of Tolly-gunge neighbourhood, in Kolkata. If its capital was Ballygunge instead, five kilometres away, you could call it Ballywood too! 
To be sure, Tollywood, at its inception, was totally comparable to Bombay cinema, in terms of scale/reach. Consider, for instance, Bollywood's oldest franchise: Devdas. 
Which was the first one? In 1935, directed, enacted by P C Barua (with K L Saigal in the Hindi version)—released by New Theatres, decidedly one of the biggest national studios from Calcutta. Bimal Roy was an assistant on Barua's Devdas. By the time Roy filmed his own version of Devdas (1955), he had moved to Bombay. 
What explains the decline of Tollywood as a more national film industry? Multiple reasons. One of them is the Great Famine of Bengal (1943). There was also WWII, which led to hyper-inflation—rendering imports of raw-stock prohibitively expensive. 
Which is also a reason for the decline of Bollywood's fully integrated studio system in the 1940s. And there was, of course, the partition (1947), that led to the split between West Bengal and East Pakistan (now Bangladesh). 
Partition for Bollywood also meant strong migration from what became Pakistan into Bombay—many of whom took to film trade/distribution/production, replacing studios with a full-fledged, mainstream star system. 
Bengalis, on the other hand, formed a wide talent pool/thinktank of directors, writers, musicians, in Bombay. Of whom Gulzar writes about lovingly in his memoir—Actually… I Met Them (2021).
What about Kolkata then? It got associated with the art house movement, starting with Satyajit Ray, a star director so globally huge that most others have been eclipsed by his influence since Pather Panchali (1995), co-funded by the West Bengal government. 
Mrinal Sen's Bhuvam Shome (1969) is widely associated with the birth of the 'Indian New Wave'. And besides his films, I don't think one acknowledges enough the role of Ritwik Ghatak as an institution-building faculty member at the brand-new Film & Television Institute of India (FTII) in Pune; also pioneering the New Wave, in a way. 
But what about Tollywood as the mainstream, popcorn-led film industry? Given the other Tollywood, ie Telugu cinema, is seen to be invading theatres nationwide, as we speak? 
The cliché is that money/ industry/ investment/ risk was never the Bengali's strong suit. And that the mercantile brain that still exists in Kolkata—ruled by the Left, for 34 years, until 2011—belongs to the Marwaris. These are clichés, because they can always be contested with examples to the contrary. 
That said, I haven't seen many Bengali films in theatres—the last one was the Naseeruddin Shah, Soumitra Chatterjee starrer A Holy Conspiracy (2022), which was better intentioned than well-made, frankly. But then, the best way to gauge showbiz, so to say, is to be a visible moth at the bar, where the film industry is partying together. 
Which is where I am—at the biggest bash in Kolkata, celebrating the fifth anniversary of the Bengali streaming app Hoichoi, owned by Shree Venkatesh Films (SVF) which if you're here, you realise, is probably Dharma+Excel+Yashraj (YRF) in Bollywood—putting out most of the big Bengali theatrical releases. 
At the party, Hoichoi reveals 25 new series for the year—which as a slate-announcement, including the razzmatazz, seems no less than Netflix/Amazon gigs I've checked out in the past.
From the bar, of course, what strikes you first are the supremely attractive, Bengali, female actors—male equivalents of whom might well be the Pathan/Punjabi blood dominating Bollywood. Unsurprisingly, heroines of Bengali origin have forever ruled in Mumbai. 
The Bengali heroes, with their own hierarchies, 'Big B' (Prosenjit/Bumba Da), 'Ranveer' (Dev), 'Ranbir' (Anirban), etc—although well-dressed, well-mannered—don't seem like stars from another sky. As stars do, when you're at a similar soiree in, say, Hyderabad. 
What catches my ears more are people overtly reverential to famous faces, equally, if not extra bitchy, behind the back, right thereafter. Haven't noticed this swift a flip in Bollywood either! 
But the applause is loud and real, particularly for a bunch of actors, directors who're not from Kolkata! From where, then? Bangladesh! The hawa at the smoking area is for a film called Hawa, from Dhaka, that hasn't been released in Kolkata yet. 
Irrfan, Nawazuddin Siddiqui—having worked on Bangladeshi films, No Bed of Roses (2017), No Land's Man (2021)—had told me, separately, to look out for stuff from across the border in the future. 
I see prolific OTTs, and a thriving Tollywood, incredibly bridging that gap, deepened by politics alone—that's the unexpected great news about an international language cinema/content, I take home from Kolkata. 
Mayank Shekhar attempts to make sense of mass culture. He tweets @mayankw14
Send your feedback to mailbag@mid-day.com
The views expressed in this column are the individual's and don't represent those of the paper.
"Exciting news! Mid-day is now on WhatsApp Channels
Subscribe today by clicking the link and stay updated with the latest news!"
Click here!