Demonetisation foretold the collapse of governance that we are witnessing today, and gave us a foretaste of whimsical or thoughtless policies. 2016 is replaying in 2021, devastatingly so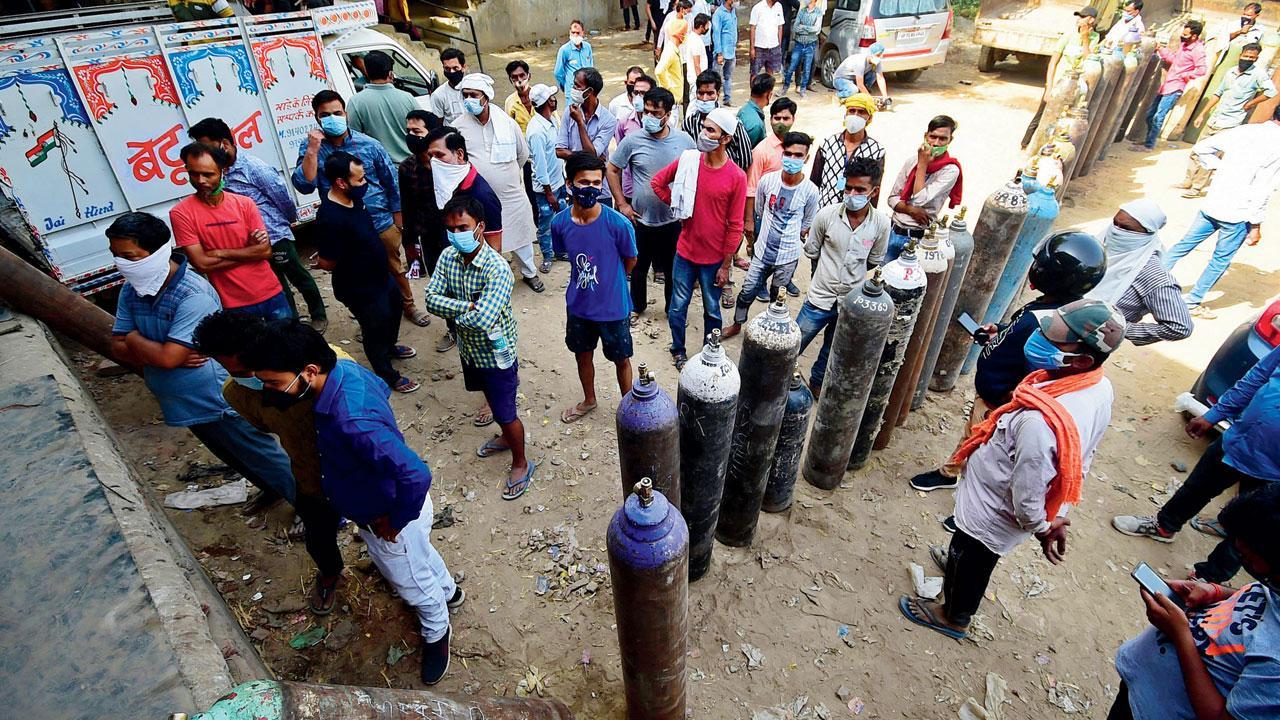 Our forgetting and forgiving is presumed. We do not know what nightmare we will allow our leaders to conceive next. Pic/AFP
There is a sense of déjà vu about our torment as we reel under the onslaught of the second wave of the Covid-19 pandemic. The queues to access public facilities, the calls to family and friends for assistance, the desperation in the eyes of daily-wagers unable to find work, the befuddlement at the world changing overnight – we have been through all these experiences that we, in our forgetfulness, mistake for completely new.
Really, when did we last experience such misfortunes?
Answer: In the weeks following November 8, 2016, when Prime Minister Narendra Modi invalidated old currency notes worth Rs 15.41 lakh crore. He ordered a person could draw only R24,000 a week from bank or ATM. Modi knew he was subjecting the nation to untold suffering, but it was, he said, a prerequisite to root out black money hoarders and terror financiers, and eliminate fake currency. "Let us join this festival of integrity and credibility," Modi exhorted.
ADVERTISEMENT
Remember? Obviously, you do now.
Sure, the misery inflicted by Covid-19 is incomparable to the experiences of the nation starved of cash. A death count of 2.7 lakh people, even though grossly underestimated, makes demonetisation, or DeMo, seem like a train accident in which most passengers survived. Watching a person die because of the unavailability of a hospital bed or a few litres of oxygen can never equal ATMs running out of cash.
Yet, in hindsight, DeMo foretold the collapse of governance that we are witnessing today, and gave us a foretaste of whimsical or thoughtless policies. A scripted disaster, DeMo's principal objective floundered – nearly the entire amount of black money in the country was exchanged for new currency notes. Around 1.5 million jobs were lost in the first four months of 2017, the unemployment rate touched a 45-year high of 6.1 per cent in 2017-18, and the economy began to flag.
Yet we chose to award Modi instead of penalising him. The Bharatiya Janata Party won two-thirds of seats in the Uttar Pradesh Assembly elections, held three months after November 8. Hubris was bound to come easy to Modi, lulling him into believing a genius at winning elections did not have to do his homework before announcing a sweeping policy decision. His attitude has turned Covid-19, a natural disaster, into a tragedy.
Think about it: Suppose the government had printed and kept ready new currency notes equivalent to R15.41 lakh crore before sucking out this amount from the system. Neither the people nor the economy would have been as badly squeezed as they were. 2016 is replaying in 2021. Instead of stocking vaccines in the interregnum of three-four months between the first and second wave of Covid-19, Modi wasted time trumpeting India's triumph over the virus, holding massive election rallies, and organising the Kumbh Mela. And then, when the second wave inundated the country, it was decided to make vaccines available to all adults.
We did not have enough new currency notes to replace those invalidated in 2016. We now do not have enough vaccines to give to 70 per cent of India's population for acquiring herd immunity. India, on April 16, had vaccinated 18.21 crore people, out of which only 4.04 crore had had their double shots. We are months away from complete immunisation. Just as we had cash shortages in 2016, we are witnessing vaccine scarcity. What was the point of making vaccines available to all when there are not enough doses to pass around? Is the policy of asking States to acquire on their own a large share of vaccines they need for immunisation a ploy to shift the burden and blame of the Covid-19 tragedy on them?
Think about it: When we elect and re-elect leaders for reasons other than governance, for their ability to stoke our base emotions of hate and suspicion, we are only asking to be treated with disdain. It could not have been a coincidence that the national lockdown of last year was imposed a day after Shivraj Singh Chouhan was sworn in as chief minister, after the Congress government in Madhya Pradesh had been toppled. That harsh lockdown, imposed on just four hours of notice, prompted lakhs of migrant labourers to walk hundreds of kilometres home. Yet, in the Bihar Assembly elections held months later, the BJP and the Janata Dal-United sailed into power.  
In the bye-elections in Madhya Pradesh, 18 out of the 25 MLAs who had deserted the Congress were re-elected, ensuring the BJP retained its majority. The Congress government in Puducherry was toppled just before the second wave of Covid-19 was sighted – the party still lost in the recent Assembly elections. A nation so forgiving of chicanery can only encourage its leaders to govern in fits and starts – and treat the people callously.
Modi refuses to suspend (not cancel) the Central Vista project even as Delhi gasps under lockdown. This is as graceless as holding a raucous party in the house of a person struggling against a painful death. 
Our forgetting and forgiving is presumed. DeMo led to the tragedy of Covid-19. We do not know what nightmare we will allow our leaders to conceive next.
The writer is a senior journalist. Send your feedback to mailbag@mid-day.com
The views expressed in this column are the individual's and don't represent those of the paper.