Govt clarifies registrations are to be done only via CoWIN portal, not the app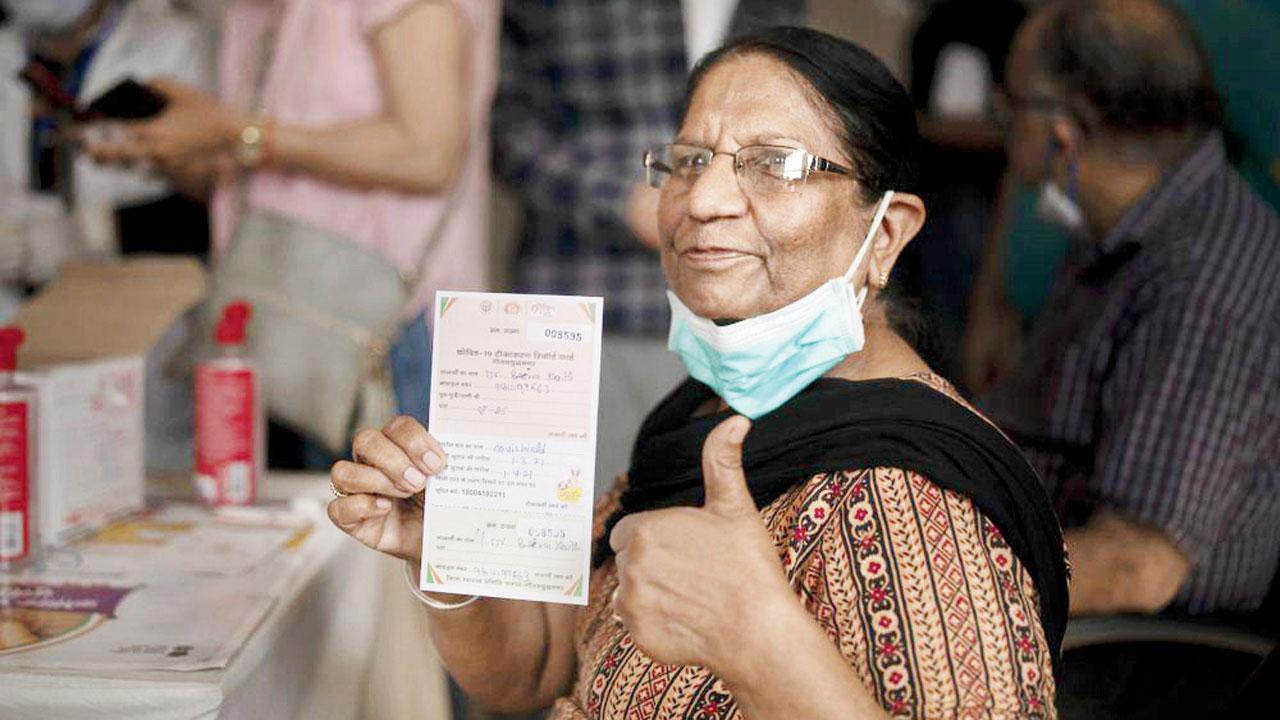 A beneficiary gestures after getting a Covishield shot at a government hospital in Noida on Monday. PIC/AP
Over 10 lakh citizens have registered themselves on the Co-WIN portal till 1 pm on Monday, the Union Health Ministry said as India opened up vaccination for those over 60 years and within the age bracket of 45 to 59 years with specified comorbidities.

A woman receives her first shot in Allahabad on Monday. Pic/AFP
ADVERTISEMENT
As the registration on the www.cowin.gov.in opened up at 9 am on Monday, people took to social media to flag glitches in the registration system.
The ministry in the afternoon also clarified that the CoWIN app on Play Store is meant for use only by the administrators, and that registration and booking for appointment for COVID-19 vaccination has to be done through the portal.
Among the first to receive a vaccine on Monday was Prime Minister Narendra Modi. He received the vaccine produced by Bharat Biotech — which has been met with particular scepticism. He appealed for all to get vaccinated, tweeting afterward, "together, let us make India COVID-19 free!" 
Vice President M Venkaiah Naidu, Bihar Chief Minister Nitish Kumar and his Odisha counterpart Naveen Patnaik also received their shots.
Thousands of people queued up at government and private medical facilities across the country. Sunita Kapoor was among many who queued up outside private hospitals, waiting for a vaccine with her husband. She said they had been staying at home and not meeting people for months to stay safe from the virus — and were looking forward to being able to socialise a bit more. "We are excited," said Kapoor, 63.
Dr Giridhar R Babu, who studies epidemics at the Public Health Foundation of India, said long waits for the elderly were a concern since they could pick up infections, including COVID-19, at hospitals. "The unintended effect might be that they get COVID-19 when they go to get the vaccine," he said.
'87% new cases from 6 states'
Maharashtra, Karnataka, Kerala, Punjab, Tamil Nadu and Gujarat have shown a surge in new COVID-19 cases contributing to 87.25 per cent of 15,510 fresh infections reported in a day, the Union Health Ministry said on Monday. India's total active cases was recorded at 1,68,627, comprising 1.52 per cent of the total infections. Five states account for 84 per cent of the total active cases in the country.