Work on constructing the new platforms have started at LTT, Kurla as CSMT and Dadar stations have no space left for expansion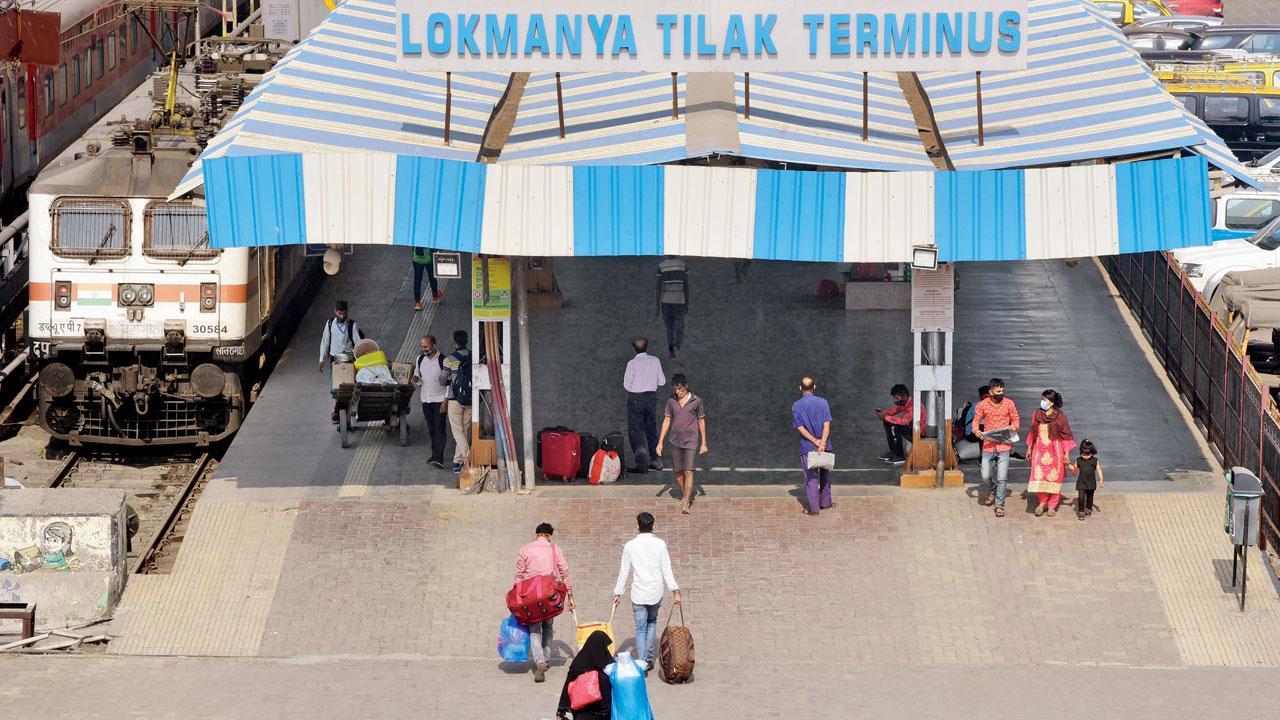 Lokmanya Tilak Terminus in Kurla had earlier undergone a revamp in 2013. File pic
With Dadar and Chhatrapati Shivaji Maharaj Terminus stations already saturated, the Lokmanya Tilak Terminus in Kurla is all set to add two more platforms in a year to boost Mumbai's connectivity of express and passenger trains.
"Work on two new platforms, that is platform numbers six and seven, has begun at LTT Kurla this month and is expected to be completed in a year's time. The platforms are coming up on the west side of the station where ample land is available. At present, LTT has five platforms," a senior official from Central Railway said.
ADVERTISEMENT
As both CSMT and Dadar have no further space for extension, LTT Kurla is the preferred outstation terminus for expansion due to availability of railway land. Central Railway had first expanded LTT in 2003 to take on more rail traffic, as CSMT had reached its saturation point and was unable to handle any more express trains.
In 2006, it was further decided to upgrade the station. The Mumbai division of CR cleared the designs for the construction of a swanky station complex to replace the dilapidated terminus complex. The new station complex design was prepared by architect P K Das. Meanwhile, MMRDA constructed a ramp from LTT to the newly-built Santacruz Chembur Link Road. The revamped LTT, built on 50,000-sq metre land and 3,300-sqm concourse over three years, was inaugurated on April 16, 2013 by then Railway Minister Pawan Kumar Bansal. The latest upgrades will further extend the station.
Also read: Mumbai: Kurla LTT- Bhagalpur express train coaches uncouple
Simultaneously, CSMT station, the city's largest rail terminus, is also getting platform extensions without hampering existing traffic movement. This will mean the station will be able to accommodate longer outstation trains and increase carrying capacity, lower passenger waiting lists. Currently, platforms number 10 and 11 at CSMT can handle only 13-coach trains while platforms numbers 12 and 13 can handle 17-coach trains. The work at CSMT involves extending platforms 10 and 11 by 382 metres and platforms 12 and 13 by 305 metres. But as this also means pushing the yard towards north, the work has been clubbed together with yard remodelling.
Taximen threaten indefinite strike from Sept 26
Taxi unions in the city have called for an indefinite taxi while some autorickshaw unions will start their strike from Monday. Taxi unions have been demanding a fare hike and had earlier threatened to go on an indefinite strike from September 15, but after a meeting with Maharashtra Industries Minister Uday Samant the strike was called off.   
"We had been promised a meeting and a decision on fare hike in 10 days. However, since there has been no development, we are left with no option but to proceed with the strike call," Mumbai Taximen's Union general secretary Anthony L Quadros told mid-day.