The shootout took place on Link Road in the northern suburb late Friday night, after which a parallel probe by the Mumbai Crime Branch led to the nabbing of two accused from Bilimora in Navsari district in the neighbouring state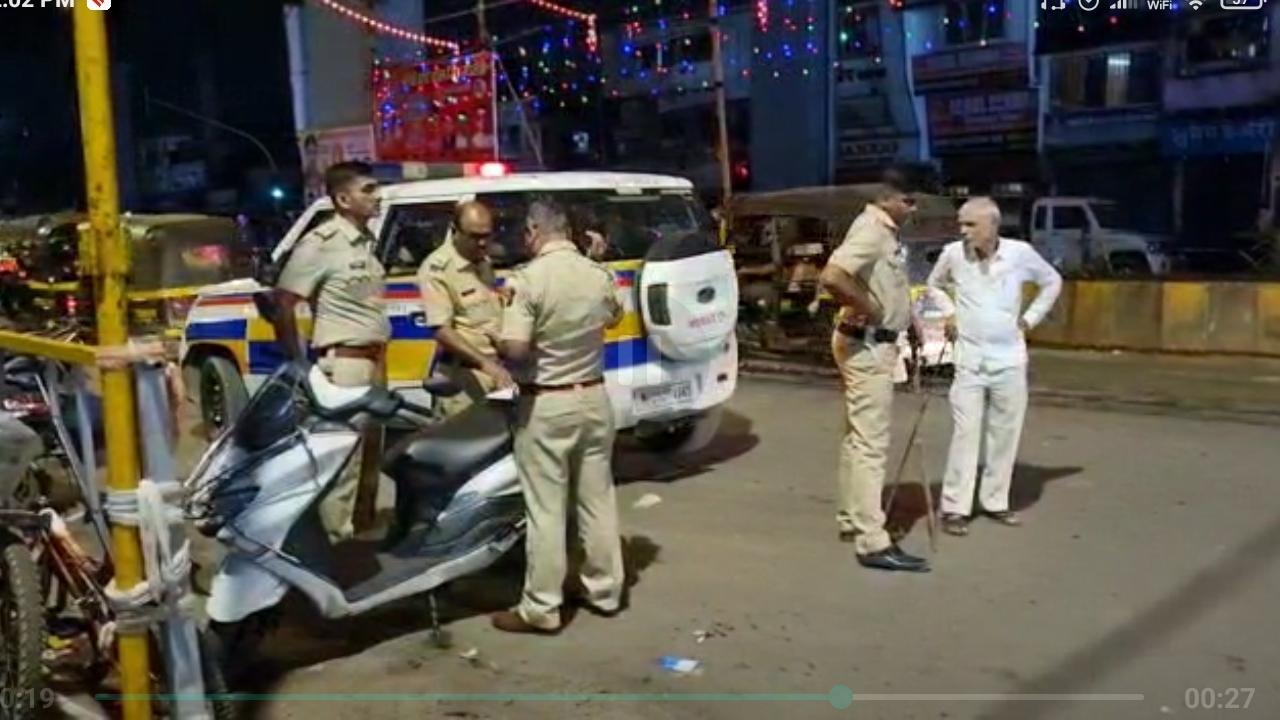 Mumbai Police investigating at Kandivli. Pic/Sachin Gaad
Hours after a 26-year-old man was killed and three others were injured in an indiscriminate firing at Laljipada in Kandivali, the Mumbai Crime Branch nabbed two persons from Bilimora junction railway station in Gujarat.
"We are currently bringing them to the city where they would be arrested following an inquiry," said crime branch officials. 
The shootout took place on Link Road in the northern suburb late Friday night, after which a parallel probe by the Mumbai Crime Branch led to the nabbing of two accused from Bilimora in Navsari district in the neighbouring state, he said.
The incident took place in the early hours on Saturday when the main accused Sonu Paswan confronted the complainant in the case Dinkar Pal, 30 at New Link Road in Laljipada in Kandivali. Prior to this, Paswan and his friend Suraj Gupta had assaulted Pal's friend Nasir Shaikh and his friend near Hilda Castelino High School in Kandivali. According to the police, Paswan was looking for one Anil alias Montu Yadav and for not disclosing his whereabouts Shaikh and his friends were assaulted.
Following the incident, Shaikh called Pal for help who upon meeting Shaikh advised him to approach the police. The two then went ahead to the police station Pal returned to Laljipada area. 
Also read: Mumbai: One dead, three injured in firing by two motorcycle-borne men in Kandivli
As Pal left for Laljipada, Paswan and Gupta started following him, around 12.15 in the night, Paswan and Gupta arrived on a scooter where Pal was standing with his friends. Paswan who was riding a pillion got down and started confronting Pal. A scuffle broke out between them in which Pal and his friends tried to grab Paswan, in the melee a firearm which was on Paswan's waist fell down seeing it everybody stepped back. 
According to the police, before they could run away, Paswan grabbed the weapon and started firing indiscriminately at them. One bullet hit Pal's colleague Ankit Yadav in his stomach while another bullet hit their friend Avinash Dabholkar just below his shoulder. Two more pedestrians also got injured in the firing.
Paswan and his friend escaped on their scooter while the injured were rushed to the nearby Shatabdi hospital. Yadav who was bleeding profusely could not be survived and succumbed to his injuries, said police. 
The Kandivali police then registered an offence of murder (302), attempt to murder (307), intentional insult with intent to provoke breach of the peace (504) and common intention (34) of the Indian Penal Code (IPC) along with the relevant sections of Arms act and began their investigation while the crime branch has also begun their parallel probe. 
"Around 12.15 am we received an information a firing incident has occurred in the jurisdiction of Kandivali police station. The assailants came on two bikes and opened fire on a few people in which one person died while three others received minor injuries and further investigation is underway," said Deputy Commissioner of Police (DCP) zone 11 Vishal Thakur.
(with inputs from PTI)
Medical record keeping is still in a nascent stage at civic hospitals in Mumbai. Do you agree?